LYNCH BAR MANIFOLDS & ACCESSORIES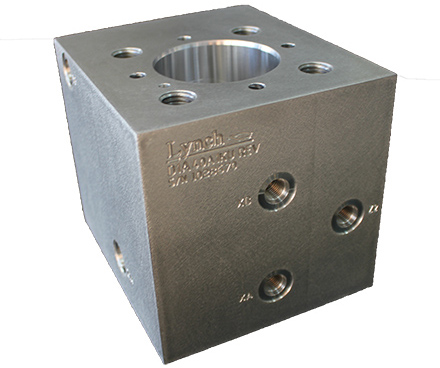 STANDARD SPECIFICATIONS
Standard Materials:
Aluminum-6061T6 and Ductile-654512
Other Material Options:
Mild Steel or Stainless Steel
Maximum Pressure:
Alu 3,000 PSI, Duc 5,000 PSI
Special Finishes:
Black Oxide, Electroless Nickel Plating, Anodizing
APPLICATIONS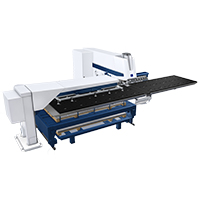 Punching Presses
- DIN valves are used in applications that require very high flows (high speeds) and heavy duty cycles. Lynch DIN bodies are a perfect match for the valves. They are sturdy and compact but with big ports and galleries.
CSA Z142 power-press compliance
- Active DIN cartridges with monitor sensors are being used more and more in new and refurbished presses as a simple way to comply with the current safety standards. A DIN block makes it very easy to install the valves close to the hydraulic cylinder.
DIN BODIES
Din Bodies are designed for standard two-port slip-in cartridges. The bodies are designed to offer the maximum in flexibility in circuit applications. Select a variety of internal or external pilot port configurations with the use of the four internal plugs. These plugs are supplied as standard and make installation easy.The DIN cartridges or "logic valves" are for two port slip-in cartridge valves used for very high flow applications.
FEATURES AND BENEFITS
Sizes 16 through 63 single cavity bodies are standard. Larger sizes custom.
Internal galleries are maximized within the ISO limits in order to minimize pressure drops and fluid velocities.
Circuit Version "A" is standard offering the maximum of pilot port configurations with the use of the internal plugs. Optional circuit versions available upon request.
All UNC or Metric mounting is standard as is Metric mounting for the valve covers only and UNC mounting for all other tapped holes.
Optional configurations with multiple cavities and circuit layouts are available on request.
BUILD A DIN BODY
Circuit Code
Circuit Code
Flange Port Code:
Flange Port Code
Mounting Threads and Pilot Ports:
Mounting Threads and Pilot Ports
SITE MAP
PRODUCTS
PARTNERS